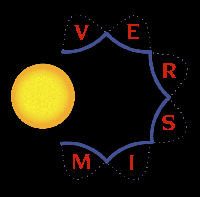 IAGA/ URSI JOINT WORKING GROUP on:
V . E . R . S . I . M
---
The working group on VLF/ELF Remote Sensing of the Ionosphere and Magnetosphere (VERSIM) is an international group of scientists interested in studying the behaviour of the magnetosphere and ionosphere by means of ELF (300 Hz - 3 kHz) and VLF (3-30 kHz) radio waves, both naturally and artificially generated. The group was set up in 1975 by IAGA (International Association of Geomagnetism and Aeronomy) and URSI (International Union of Radio Science), as described in the working group history. Originally the emphasis was on probing of the magnetosphere by whistlers, but later the scope became somewhat broader. The group aims to promote research in this field by facilitating the exchange of ideas, information and experience between active research workers and other interested scientists. This is done through regular meetings at IAGA and URSI Assemblies, a regular VERSIM community workshop, and via the circulation of a newsletter. The group has also been active in sponsoring scientific symposia at IAGA and URSI Assemblies, in areas relevant to its field of interest, and in coordinating observational campaigns. At present the main subjects of interest include Plasma structures and boundaries - morphology and dynamics, Wave-particle and wave-wave interactions, Wave-induced particle precipitation, Wave propagation in magnetosphere and ionosphere, Sprites and the effects of lightning on the ionosphere. There are currently over 100 scientists from about 26 different countries on the VERSIM mailing list.
---
Some VERSIM Research Laboratories
(Please notify any additions/corrections to C. J. Rodger.)


University of Crete, Greece
R.B.S.College, Agra, India
VLF Data on the Web
Forthcoming meetings
URSI, Istanbul, 2011
The 30th General Assembly of URSI was held in Istanbul, Turkey 13-20 August 2011. During the General Assembly there was a meeting of the VERSIM working group during the Assembly, on 12:00 on Tuesday 11 August 2011. A report on this meeting is available here. The next gathering is to be held in Beijing, China, from 16-23 August 2014. See the URSI General Assemblies website for more details.
IAGA Mérida, Mexico, 2013
The IAGA General Assembly was held in Mérida, Yucatán, México from 26 - 31 August 2013. There was a VERSIM business meeting at 1230 on Tuesday 27 August 2013 during this conference. A report on this meeting can be found from our website.

The next IAGA meeting will be held in Prague, Czech Republic from 22 June -2 July 2015 as part of a wider IUGG General Assembly. IAGA will meet for only 1 week of the longer 10 day IUGG period, but the specific timing for the IAGA sessions has yet to be determined Multiple VERSIM-relevant sessions have been put forward for the Prague IUGG.


6th VERSIM Workshop,
Dunedin, New Zealand

, 2014

The 6th VERSIM workshop took place in January 2014 at the University of Otago (Dunedin, New Zealand), organized by the Space Physics Group of the Department of Physics, and supported by IAGA, URSI and the Air Force Office of Scientific Research, Asian Office of Aerospace Research and Development. This was a chance for the VERSIM IAGA/URSI joint working group to meet and discuss current issues, developments, and techniques. The 6th VERSIM Abstract and Programme Book is available online. The workshop attracted 35 participants from 14 countries, with 58 abstracts.

During the 6th VERSIM Workshop there was a VERSIM business meeting on the last day (Thurdsay 23 January 2014). The minutes for this meeting are available from our website.




7th VERSIM Workshop, TBA

Two bids were received during the 6th VERSIM workshop to host the next workshop. One bid was from the Indian Institute of Geomagnetism putting forward Mumbai. The other was from the South African National Space Agency putting forward Hermanus. These colleagues are now preparing additional information on their offers, such that a final decision can be made as to the location and timing of the 7th VERSIM Workshop.
Previous editions of this page
VERSIM Newsletters
The VERSIM Newsletter (and its predecessor, the PEPM Newsletter) has been published about 1-2 times per year. Newsletters up to No. 13 were distributed on paper. From No. 14 onwards they will be distributed electronically, either via the VERSIM electronic mailing list or through this web page. Here is an archive of past VERSIM Newsletters:
Further information
Contact one of the VERSIM working group co-chairmen: IAGA Co-chairman C. J. Rodger; email crodger@physics.otago.ac.nz (now replaced by Jacob Bortnik from UCLA, expect a new website soon!) URSI Co-chairman J. Lichtenberger; email spacerg@sas.elte.hu

---
This document is maintained by C .J. Rodger and was last updated 7 March 2014.

Return to Contents
---