Expedition 7 planning maintenance trip to Antarctica
The seventh Antarctic expedition from the Otago Space Physics group is preparing for their trip South. Prof Craig Rodger is the event manager for Expedition 7, while Dr James Brundell is the event leader. These are the names used by Antarctica New Zealand for the roles we fill, in more common scientific parlence Craig is the PI and James is the Field Engineer. The main goal of our travel is to repair long-term damage to our antenna, which was been in place since December 2008 but has slowly suffered in the high winds at Arrival Heights. The team is currently scheduled to travel to Scott Base on Wednesday 12 November 2017 for a 7-day highly intensive working period. The logistics support, comprising air transport, accommodation, and all other on-ice support is provided through Antarctica New Zealand Event K060.
James and Craig are heading to Scott Base to work on Otago's AARDDVARK radio receiver which is located at Arrival Heights, not far from Scott Base. They also comprised the Expedition One team who deployed this radio receiver in December 2008; this is James' 6th visit to Antarctica and Craig's third. From a first look the experiment is looking good, and data quality is still quite high - the image below shows the Arrival Heights AARDDVARK antenna seen in late September 2014 with the Telecom Satellite dish dome in the background. The north-south and east-west cables of our receiver can be seen, along with the blue ropes which run along the ground to help give the setup strength. Those ropes have been in place since December 2008 when Expedition One originally deployed the experiment, so we have to be happy given the harsh weather conditions up at Arrival Heights.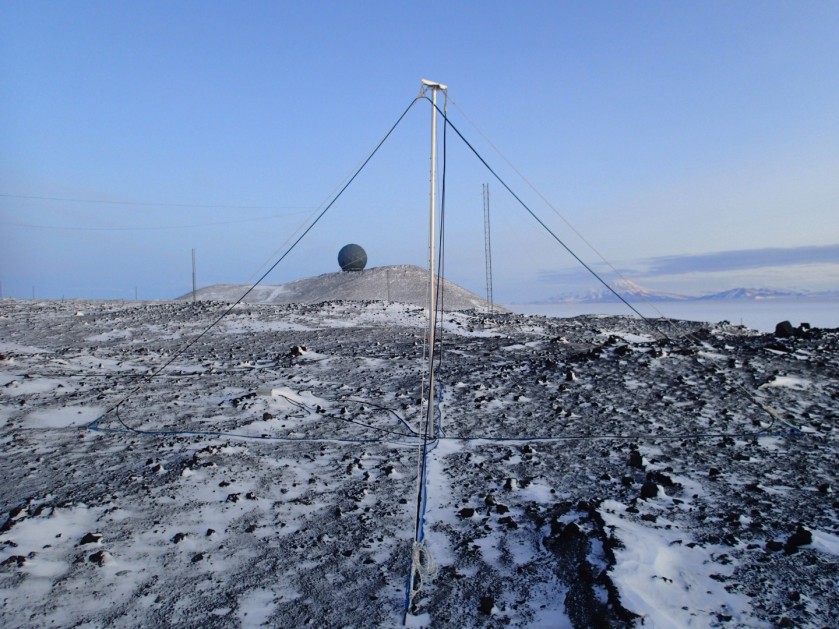 The Otago University AARDDVARK radio antenna located at Arrival Heights, Ross Island, Antarctica [24 September 2014, image taken by Isaac Pio the 2013/2014 Winter Science Engineer/Tech Support]
Unfortunately, during Expedition Six (November 2013) James and Aaron noticed that the top of the mast had suffered badly from erosion. The two images below show the top of the mast in late January 2010 and 2014. The eye hole in which the stainless steel quicklinks are attached through has badly worn, one assumes as the wind has caused the quicklink to twist. At this point it appears as if this will not wear through before we are due to travel south in about one months time, and we were replace the entire top of the mast. Obviously Antarctic design is a learning experience, and James has modified the new mast-top design so it will be less susceptible to this issue in the future.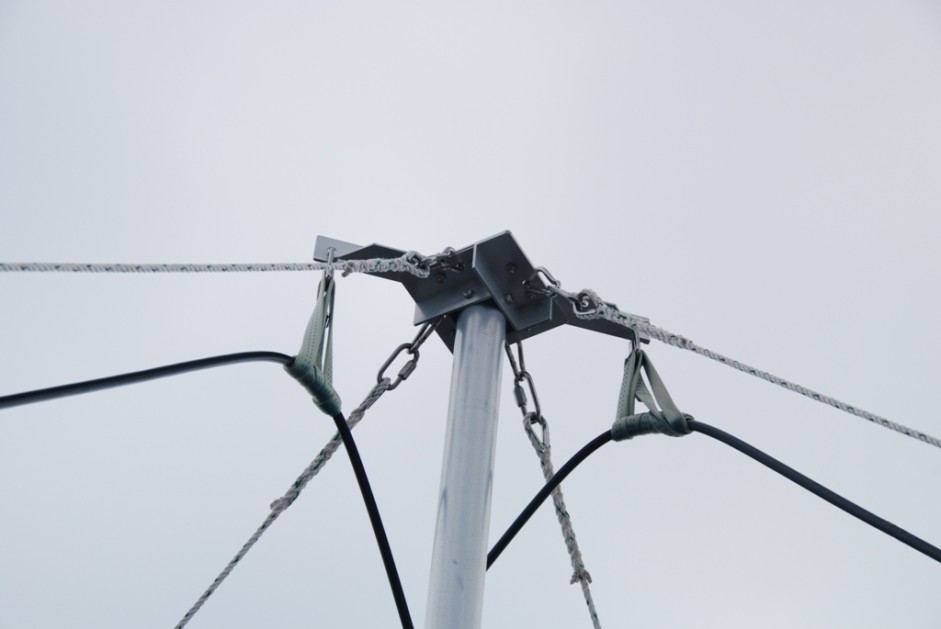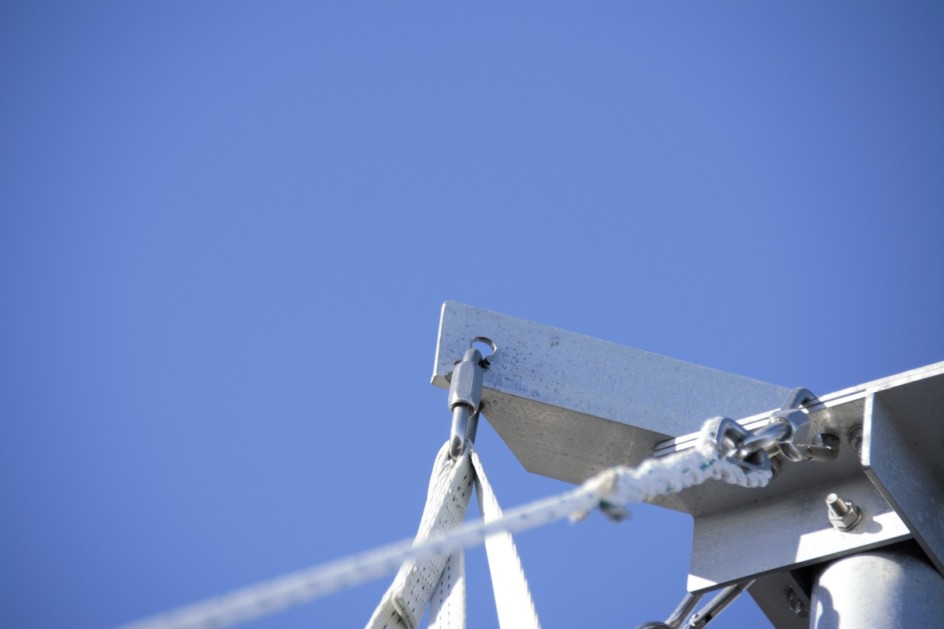 Left: 28 January 2010                               Right: 20 January 2014
James and Craig will also gather high resolution data, undertake calibrations and make VLF radio noise observations. Assuming all goes to plan, Expedition Seven will leave Dunedin on Tuesday 11 November 2014, flying to Christchurch to be issued their Antarctic clothing by Antarctica New Zealand and have initial briefings. The next day they should fly on a US Air Force C17 Globemaster II down to the Ross Sea. After completing safety briefings, some level of Antarctic Field Skills training and getting their Antarctic driving license, the two man team should be ready to get to work a day or two later.
[9 October 2014]