Winter sea ice growth processes in McMurdo Sound, Antarctica
During the southern winter of 2009 (February-October) we will carry out an extensive program of sea ice and ocean measurements in McMurdo Sound, Antarctica. This is a collaborative project between the University of Otago,
NIWA
,
IRL
and
VUW
. Our research is aimed at understanding the interaction between the Ross Ice Shelf and the ocean and the effect this interaction has on the growth of the sea ice. We will be based at Scott Base (NZ), but we will also establish a research camp on the sea ice from where we will carry out most of our fieldwork.
The winter-over science team consists of
Dr. Andy Mahoney
and
Alex Gough
from the University of Otago and Brian Staite from Antartcica New Zealand. Andy is a postdoctoral fellow who is more used to studying sea ice in the Arctic. Alex is a PhD student who has already spent two winters on the ice with the British Antarctic Survey. Brian is an old hand in the Antarctic and will focus on keeping us safe so we can maintain the blog. This work is part of the IPY Antarctic Sea Ice project, which is an international effort to increase our understanding of sea ice and the processes that influence the changes we have been seeing in the recent past.
This work is funded by a grant from the Foundation for Research, Science and Technology (
FRST
). We are also grateful to Antarcica New Zealand, who support a wide range of
IPY science projects
.
Public Outreach
The team at Scott Base will link to the International Polar Year Polar Oceans Day live events. There are two institutions that will be participating in the interactive portion of the event (Chicago Museum of Science and Industry and the National Museum of Mexico). Students at these locations will be able to ask questions about the work going on at Scott Base via the video conferencing system. Two other institutions (San Francisco Exploratorium and the Maryland Science Centre) will be tuning in via a webcast but will also be able to ask questions via email.

The event is scheduled for March 17 at 12:00-1:30pm EST. There is also another event at Wednesday, March 25th, UTC 1800. More information can be found by visiting the IPY website. To download a PDF of the events and their topics click here.

An interview involving the sea ice group was done on National Radio, The Our Changing World interview about the winter sea ice project was broadcast on 5th March and can be found here.
Recent Data & Results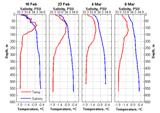 Click
here
for our latest data and results
IPY Blog
You can also follow our progress through the winter on our IPY Blog:
McMurdo Sound Winter Sea Ice IPY Blog
. Recent posts can be found below.